2 Secrets to Burn Belly Fat & Healthy Turkey Recipe
Posted by Cheryl in: weight loss
In anticipation of leftover Thanksgiving turkey, I started experimenting with some delicious turkey recipes. Turkey is such a fabulous and healthy meat. Nothing speaks tasty nutrition like turkey! So, here's a healthy twist on the turkey sandwich with more vitamins and heart healthy fats.
This particular recipe is a stretch from the brown bag boredom turkey sandwich.  I had some friends try and they couldn't believe how good it was – or how easy and simple it is!  It really is nothing more than throwing a bunch of stuff together in a pot.
Healthy Turkey-Bean Concoction Recipe 
Ingredients:
1 lb of fresh shredded turkey breast or 2

large cans of chunked/shredded turkey breast (but fresh turkey is healthier!)

1 16-20 oz. can of baked beans (don't worry about the sugar since it is balanced by high fiber and protein in this recipe)
1 large diced tomato or 1 can crushed tomatoes
2 Tbsp extra virgin olive oil
2-3 fresh diced garlic cloves (or 1 Tbsp crushed garlic)
1 large vidalia onion, diced
2 red peppers, diced
Directions
Cook olive oil, diced tomatoes, onion, peppers and garlic in a large pot for a few minutes until they start to simmer.
Add shredded turkey and can of baked beans to the pot and simmer for a few more minutes.
Seriously, that's all! This turkey recipe is so delicious and so easy!  Plus, it has a great mix of healthy carbs, protein and fat, as well as a good dose of antioxidants, vitamins and minerals. Makes about 4-5 servings.
The 2 Secrets To Burn Belly Fat for Good
If it seems like you have tried every magic pill or snake-oil supplement available for losing belly fat, then you've probably felt insulted by fraudulent marketers claiming overnight fat loss.
So, let's get past all of the scams and weight loss gimmicks and get right down to the hard science! I'm giving you the real techniques and strategies that help you lose your stubborn belly fat and keep it off for life!
#1 Structuring Your Workouts
In order to stimulate fat-loss from your stomach, direct abs exercises should only be a portion of your workout routines.
 The good news is you can stop wasting your time doing hundreds of reps of crunches, leg lifts and torso twists just to "hope" you can reduce your belly fat and love handles.
Ab exercises can help to strengthen your back and develop core muscles.  But, the real secret for ridding yourself of that sloppy belly fat is by structuring your workouts on large muscle groups like legs, chest and back.
By focusing on big multi-joint exercises, you increase your metabolic rate – for 24-48 hours after your workout! This is your ZONE for fat burning hormones in your body!  When the exercises are geared for the largest portions of your body, your metabolic rate increases, as do you fat burning hormones!  So, why burden yourself with grueling ab exercises after all?
To lose your belly fat, get your butt under a barbell and do some squats, some lunges, some deadlifts, step-ups, some back and chest work. This doesn't mean you "exercise" in the shallow sections of the pool while talking to your gym buddies!  To really burn belly fat, it will require some focus and intensity in your workouts! Anyone who tells you can get a flatter stomach with some "ab-belt" strapped to you is flat out lying to you!
For you ladies, don't worry…it's not going to "bulk you up".
#2 Evolving Your Nutrition
Busting belly fat revolves around your nutrition, which is your second secret to six pack abs. Even if you are disciplined enough to follow any "diet," the truth is you will probably lose lean muscle and lower your metabolic rate by only eating low-carb, low fat or other fad diets. By limiting yourself to 1 or more macro nutrient (protein, carbs and fat), you work against your body in effort to lose belly fat.
Essentially, when you limit your body's access to all the macro and micro nutrients it needs, your body is wacked out of balance and your hormones are disrupted, the muscle glycogen process is halted and your insulin and blood sugar levels go on a rampage.  This can't be healthy, but it also stops your fat loss dead in its tracks! When you start to eat normal again, you've actually carved out a system to become fat again!
We are designed to benefit from a vast array of foods that provide our bodies with carbohydrates, proteins and fats, as well as vitamins, minerals, antioxidants and enzymes required to build a lean, mean, well-oiled fat burning machine! Give up the fad diets! Feed yourself healthy and natural foods – you'll see ab results!
I would love to share with you more secrets of my six pack abs!  For now, I've rambled on long enough.  But, I have more natural was to uncover the hidden abdominals of yours in very easy to use and followable steps: Truth About Abs Program for Losing Belly Fat.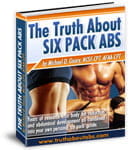 If you've been thinking of getting a copy of The Truth about Six Pack Abs Program, but just haven't made the move yet, now is the time to take action, and get started on your lean ripped flat stomach today – BEFORE the turkey holiday!
By Mike Geary, Certified Nutrition Specialist, Certified Personal Trainer
Author of best-selling program:  The Truth about 6-Pack Abs
Further Related Reading:
Comments
comments